Faith is a living, daring confidence in God's grace, so sure and certain that a man could stake his life on it a thousand times. Martin Luther
I didn't know, last year, how my life would be turned inside out and twisted up and then wrung out and hung on the line. I have been learning the freedom of flapping against the breezes as they come, both the hard and unpredictable winds, as well as the gentle puffs of summer's warm, salty breath. I didn't know that there could be real, deep-seeded joy even when I'd be stiff and brittle, and unbending as life pushes at me from the back, and then from the front. I had no idea that I would appreciate deeper, the rains when they'd fall, seeing them as the thirst-quencher that they were, after months of drying and fading in the sun.
I had no idea, because I had not learned to accept grace in all forms- particularly the grace that takes the face of a fevered child, or grace that drips steady in the tears, or grace found in bone-weariness that weighs a soul down so hard and heavy, that just getting up in the morning, becomes the day's single great achievement.
I didn't know grace came in so many shades of grays and yellows, and everything in between. 
But I know it now. I have learned as much. 
For the Lord God is a sun and shield: the Lord will give grace and glory: no good thing will he withhold from them that walk uprightly. Psalm 84:11
A thousand Thank You's have been whispered and shouted to the high-heavens. Over days and weeks and months, grace has been counted, each moment named and numbered, through fertile and dry seasons- the practice has taught me this much:
Grace can be found under every filthy rock and in the hardest, ugliest moments, when one learns to accept each breath as a gift.  
 I have seen the danger that comes when we stop counting, and start dwelling too long in life's messy moments, wearing our sackcloth and cutting ourselves- we forget, that this grace is real. 
Every experience we encounter, every mishap and joy we get to live through, has first passed through the Father, for nothing we achieve or survive has not been waved through by His hands. And the sin? The grief we experience- the hurt and betrayal? Results of the fall, remnants of a decision once made in the center of paradise, but all used by Him still- the catalyst for smashing our rocky hearts into something useful, something soft and pliable, fit for the molding.
I've learned that Saying "Thank You", particularly in the dark, carries power.
Saying "Thank You" when life is bent hard in the hurricane winds and splintering at the seams, provides the vision that sees the destruction as an opportunity, rather than a tragedy. A Chance to rebuild, better, stronger, more completely…
Gifts have piled up and tipped out, and been shared and treasured, and held close over this last year.
I have been awe-struck repeatedly by the merciful moments accumulating around me. We serve a generous God.
A thousand Thanksgivings bang like a wild drum from within, a cadence of praise that looks the thief  square in the face and says,  "you will not win this day, this moment, this hour"- because grace wins, and grace saves, and despite my frailty, there is strength found in giving praise, in marking these thy gifts-
And so I keep counting on, beyond my 1000 Gifts…
901. wet heads of my little ones, fresh from the bath
902. A surprise gift in the mail from a friend, now a permanent fixture on my desk.
903. A new community, a sisterhood in bloom. I can scarcely believe the ways God is paving the path, laying the foundations, knitting hearts together…
904. Watching kids discover at the science museum.
905. Mom-friends who get me, a place where my soul can breath and be raw and real.
906. The answered prayers for big work stress for the Mr.
907. For visions and dreams, the way they are born and stirred and pieced together, always and ONLY by your graceful touch.
908. Family.
909. Hot mocha's on a cold morning, the sweet smell, the velvet chocolate taste…
1000. Jesus. Always and ever, thankful for Jesus, who loves with a measure that overwhelms, and consumes, and gives life.
1001.The encouragment from friends when the lies threaten the truth, the way these soul-sisters speak truth over me
Thanks, Ann. Thank you for starting this crazy grace-chase and for always pointing to Him. 
Joining the community of friends and Ann in giving thanks for all things. Won't you join in the praise?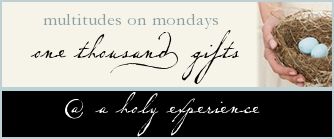 Want to keep up with me? Subscribe to Always Alleluia by Email to get my posts delivered right to your inbox. You can also find me on Facebook and twitter.