I received this e-book last week for free(!), thank you, Sara Mae, and then I stumbled on to this challenge hosted by Christin at Joyful Mothering.   I thought about it for about two seconds and decided I would take the challenge.  I hope between homeschooling, and all of my other various tasks, I can keep up, but I am excited about reading the book and putting the wisdom into action.  If you have not heard of this book, you should check it out, I will definitely post a review of it when I am done reading it. I can say that so far, I like what I see.  I think it's just the motivation I have been needing. Click the button below to join in!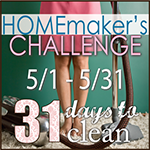 Right now, I am working on my 'mission statement' regarding why I like/want a clean house. I am finding it harder than it should be to articulate my thoughts on this issue. Probably because I have never thought too much about why I want a clean home, it's always just seemed like having a clean home is part of who I am, but maybe it's more than that….
I spent some time thinking about it, and this is what I came up with:
Our home is a sanctuary for us. Within these four walls we can relax and rest, laugh and play and shut out the chaos of the surrounding world.  As our sanctuary, our home serves us best when it is clean and tidy, which allows us to not be overcome by the clutter, and to instead share time together enjoying the richness of God's blessings. Having a clean home demonstrates good stewardship and order. Our home is a reflection of our values and standards and should be maintained properly, for the blessing that it is to us.
_______________________
Why do YOU want a clean home?
Would you be so kind as to leave a comment, sharing your thoughts?