You can wear your pajamas. You can skip the make-up. You can tend to your family, and save your travel money for another day. In(RL) is coming to you again this year.
Last year, I sat in front of my computer to watch the In(RL) conference from the comfort of my home. For $10, I gathered with friends, women whom I've met for real, beyond the screen, and hears their stories and encouragement, and felt the warmth of their smiles and laughter. I wept with them, I laughed with them, and I knew that these women, the ones sharing their stories, they are my people. In(RL)is a welcoming, beautiful community that gloriously represents a tiny fraction of what I imagine heaven will be like.

This year, the In(RL) conference is back. And it's FREE.
(Subscribers, view the video HERE.)
Friday, April 26th and Saturday, April 27th, you can join the fun and fellowship. I didn't have anyone over last year, but I'm hoping to do it differently this year. I hope you'll join us, it's going to be amazing. Did I mention it's FREE?
Register now, to receive:

one of these (In) Courage day Brighteners (While supplies last, U.S. residents only)

A FREE copy of the first ever (in)Courage eBook, Best of the Beach House 2012
This year, we're talking about what it means to stay in community. It's going to be amazing.
(I just might be in there somewhere, too 😉  )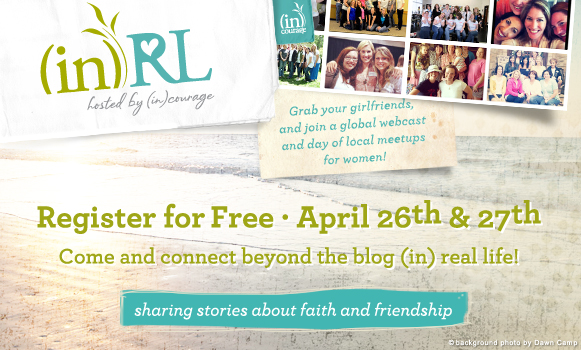 Did you participate in In(RL) last year? What was that like for you?