In the highest civilization, the book is still the highest delight. He who has once known its satisfactions is provided with a resource against calamity. ~Ralph Waldo Emerson
If I'm not writing, I'm reading. Books live on every solid surface in this house and frankly, I love it this way. I try to put them back on the shelf, I do, but I am reading so many at once that to put them away seems useless and so, I don't.
To add to this list above, is Holly Gerth's  You're Already Amazing: Embracing Who You Are, Becoming All God Created You to Be

(which I will be reviewing shortly), and of course, Valley of Vision: A collection of Puritan Prayers & Devotions
, that I think will never ever find it's way onto the shelves, as I like to keep it at arms reach. Also, I am reading Madeline L'Engls's Walking on Water: Reflections on Faith and Art (Wheaton Literary Series)
 which I checked out from the library but now see that I will have to purchase a copy for keeps. I have copied quote after quote from it and would be happier if I had my own copy to mark up and underline etc.
What are you reading these days?  Anything interesting, I am always looking for more books to add to my ever-growing wish list 😉
Counting on, beyond my 1000 Gifts:
1026. Family time, the priority of it, the grace of sharing this space together
1027. Easy dinners
1028. Finally feeling connected at church. Nearly seven years in…
1029. Making the hard sacrifices.
1030. Children laughing, the wild rompus before bedtime that is both hilarious and frustrating all at once.
1031. The sounds of books thumping to the floor as they are thumbed through and read in the beds of the little people upstairs.
1032. Fires in the fire place, an unexpected snow shower
1033. Being spared frm the ugly weather.
1034. An early morning run, the struggle to rise for it, the tired satisfaction for having done it anyway.
Joining the community of friends and Ann in giving thanks for all things. Won't you join in the praise?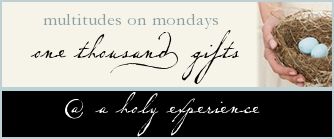 Want to keep up with me? Subscribe to Always Alleluia by Email to get my posts delivered right to your inbox. You can also find me on Facebook and twitter. 
*This post contains affiliate links