Then God blessed the seventh day and made it holy, because on it he rested from all the work of creating that he had done. Genesis 2:3

In this busy season of raising little people, it's easy to forget to come up for air.
Yesterday, the earth seemed to spin slower, the clouds barely moved, I took a deep breath.
Watching the kids play is therapeutic sometimes, when we are always rushing–killing the sweetness of life with our constant hurry.

Life is short.
our days are numbered and finite.
How often do we forget the value of slow afternoons,

the fun of rolling down a hill. On purpose.
Some moments are meant to be observed from another angle–a fresh perspective.

Beauty and gifts abound in this world and living behind a screen or constantly tuned in to other things becomes the hidden ticket to sudden death.
I've walked the edge. I've slipped a bit. I'm stepping back.
Better one handful with tranquillity
than two handfuls with toil
and chasing after the wind.
Ecclesiastes 4:6
Counting on beyond my 1000 Gifts~
1087. The community of believers I am a part of, THIS amazing experience.
1088. Sunday church
1089. A "new to them" book handed down the pew from a friend who sees the kids struggling to be still during the sermon. No judgment, just help offered with a knowing smile.
1090. watching my four roll down a hill for an hour straight. No electronic gadgets in their hands, no hiding behond screens, st kids being kids.
1091. A carriage ride with a neighbor. A first for them, and for me!
1092. Remembering the Sabbath.
1093. The ongoing struggle of being stretched and grown for His purposes.
1094. The hard waiting. Learning to trust in uncertainty.
Joining the community of friends and Ann in giving thanks for all things. Won't you join in the praise?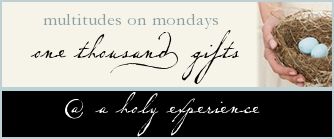 Want to keep up with me? Subscribe to Always Alleluia by Email to get my posts delivered right to your inbox. You can also find me on Facebook and twitter.