I'm standing there at the register, credit card in hand, juggling a wallet too stuffed with receipts to close properly, while my two year old grabs repeatedly for a box of candy bars perched precariously on the ledge. Swiping the card with one hand and shoving the shopping cart forward a few inches, I firmly remind her that I just said "no" to the candy. My other three have discovered the chaise lounges and have sprawled most improperly across furniture that we do not own, nor have any intention of purchasing.
A towering stack of miniature lawn chairs topples to the ground, the three of them blink wide-eyed in my direction and then hop-to, righting the stack.
Meanwhile, I'm still wrestling candy from a baby at the register. The woman behind the register stares at me, her eyes magnified by her glasses, "are these aaaalllll yours?" She drags that three letter word out and my jaw tightens. I see her bracing the edge of the counter, and I wonder if my answer might knock her down–
I grin at her and chirp, "yes, I'm so blessed". I'm not being smug. I mean it. She stiffens, I know she doesn't know what to say. I bite my tongue because I get this question a lot, and not just when my brood is knocking down chairs and pretending to nap on un-purchased lawn furniture.
"Are these all yours"?
These. All. These makes them sound more like objects, not people, not little souls.
We no longer live in a society that values human life. Babies are discarded before they ever breath their first breath–
Children have a solid place in society, and it isn't standing hushed in the corner, and nor is it demanding entitlements from their parents (or anyone else for that matter).  I've grown to loathe that ugly phrase, I'm saddened by a society that views children as a burden.
Be sure, I am careful how I answer this question. My children are watching, they are listening, to how I will respond. Can you imagine if I rolled my eyes and sighed exasperated, threw my hands up shook my head, "yeeeeeesss, they're all mine, uhg, can you believe that?! " And yet, I think that is the answer so many who ask, seem to expect.
I can't tell you how many shocked faces I have see when I respond cheerfully that these, yes all these, are in fact all mine and I love them desperately.
Why on earth, is my response such a shock to them?
What have we become?
I only have four children.
I get sympathetic head shakes and sad eyed stares as I corral my children at the check out. While I concede that it isn't easy, and that having a larger family presents it's various challenges, I resent the down turned mouths and sorrowful condolences I receive when we are out in public. My children are a gift.  All Children are a gift.  Not just the ones with pretty faces and perfect teeth. The unruly and complacent alike, all gifts.  Even the days I find myself bone-weary from the work of it all,  cross-eyed and near tears.
Don't feel sorry for me because "my hands are full,"  I am blessed!
I cannot imagine how hollow and empty my life would be without these four.
Behold, children are a heritage from the Lord,
the fruit of the womb a reward.
  Like arrows in the hand of a warrior
are the children of one's youth.
Blessed is the man
who fills his quiver with them!
He shall not be put to shame
when he speaks with his enemies in the gate. Psalm 127:3-5 ESV
And just for fun, I had to throw this in there, it made me laugh:
Counting on, beyond my 1000 Gifts~
1051. ALL FOUR of my children. The wild craziness of having a larger(er) family
1052. Time spent with friends, the serious and silly moments that bring us close
1053. The hard convictions that come, recognizing the value in learning where to fix things
1054. A handy husband, capable of doing so many amazing things
1055. Bouncing back from illness
1056. The beauty of spring flowers
1057. Folding laundry with four kids helping, many hands making work light
1058. New spring clothes
1059. Promises. Hope. Dreams.
Joining the community of friends and Ann in giving thanks for all things. Won't you join in the praise?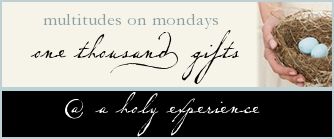 Want to keep up with me? Subscribe to Always Alleluia by Email to get my posts delivered right to your inbox. You can also find me on Facebook and twitter.