The past three weeks have been an overwhelming swirl of stomach visus's, clean-up, fevers and a laundry pile that threatens to bury me alive. My poor babies all fought the hard fight and struggled to regain health, though thankfully, after many prayers from you, from us, healing is coming.
Our routine is all askew, we've watched more movies than I can count. My voice is hoarse from reading countless books in an effort to distract little minds from tummies that groaned and cramped and grumbled uneasy. But Sunday, Sunday came as a sweet day of rest. We even managed a family walk, a welcome venture out into the sunshine and fresh air!
But I have to admit, in the foul moments of this raging virus, I was not at my most gracious. I am so weak and I so easily slip when the pressure is cranked and the trials come hard and relentless.
Finding joy and counting my gifts felt like another chore, just another struggle to surmount in the middle of digging myself out from underneath an impossible three weeks of insanity. But it's a funny thing that happens when you dare to count difficulty as grace. Tides turn in an instant, and sour expressions fade into smiles and joy tingles once again, even in light of a house that looks like the aftermath of a twister– books and laundry, toys and dishes strewn across every spare surface. Joy did not really disappear, it only seemed a little harder to find, and search for it I did.
Joy can be a contageous virus. When we find the ability to open our mouths and start naming it, when we search deep and give each fragment a name, and a number- joy can spread like wildfire through a house full of people who have momentarily lost sight of the benefits of being struck with the "joy bug".
So I just keep counting. I've hit 1000 gifts and I will just keep going…

Counting on beyond my 1000 Gifts:
1002. Friends and family praying for us. A bigger blessing than I can ever say.
1003. A washing maching just downstairs to help clean away the cooties.
1004. Weather just warm enough to crack the windows a bit to air out.
1005. A steam cleaner. You don't even want to know…
1006. A stack of books and time to read some.
1007. Breakfast with a friend
1008. Making some new decisions an homeschooling, a shift in our methods
1009. Pushing through the doubts and doing the hard things
1010. The five glorious minutes where the laundry was all done. Short but sweet! 😉
Joining the community of friends and Ann in giving thanks for all things. Won't you join in the praise?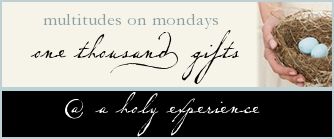 Want to keep up with me? Subscribe to Always Alleluia by Email to get my posts delivered right to your inbox. You can also find me on Facebook and twitter.