Four Christmas's ago, in the middle of the gift exchange, they stopped opening gifts because they were tired. Overwhelmed. And there was no where left to sit. We waded through the mountains of shiny paper and sparkling ribbons, trying to make sure we weren't throwing anything away. And I frowned watching them run out of steam Christmas morning.  This is not what it's supposed to be like.
I felt sick. The excess that year was nauseating. Since then it's been a slow effort to change Christmas here. I admit, I love to give my kids things. I do. I love to see their faces shine when they get that special thing they have been wanting, or that super-cool thing they didn't even know they wanted until they received it.  But as God has been working on me, and as I try to make room for Him, my joy comes differently these days. We haven't finished this journey, it's hard. But God is moving…
We packed shoe boxes for the first time this year. It was awesome. The kids had so much fun selecting their gifts and packing them up.  They filled out the papers and made cards to include in their boxes. And I saw that look that I love, the light shining in them, glimmers of Christ. 
We have also taken time, looking over the Compassion catalogue. My boys leaping around the table with excitement, when they discovered that you could buy a real live chicken for someone three thousand miles away. I was pretty excited myself, watching them shout out which gifts they'd like to give.
"I hope Manirakiza (our sponsored schild) gets a chicken!" one said. I told them that while we weren't able to choose which family gets our gifts, we can certainly pray that God guides them to the right place. Because that's what he does, isn't it? He steers and guides all things to their proper and appointed places. Chickens, shoe boxes…hearts…..  He blesses those in need constantly, because he loves deeply.  In giving our gifts we demonstrate our love for one another. But the thing is, my kids know we love them. They don't really need another plastic wrapped toy to prove it.  My three year old doesn't really need another baby doll, she has at least four, and she doesn't play with any of them.  How may plastic dinosaurs does my son need? None– because he already has enough to fill a large storage bin. We are bursting here with plenty of stuff, but what I want is just more Christ in our Christmas- just more Jesus.
What I want is for my children to feel the same.
My Christmas wish, my prayer, is just more Jesus.
For me,
for my kids,
for the whole world. 
It feels like a tall order, but God is big enough, and that's what He does. He gives the good gifts, that we might learn to give as he gives, to give what he gives, more love, more of himself, more Jesus.
I keep counting the gifts in my life, big and small, the Lord gives them all….
Counting on to my 1000 Gifts…
661. Hand made gifts from my children.
661. My baby girl saying the 'Our Father' with the conviction of a pentacostal preacher, I can't help but shout "preach it, sister!"  and smile wide.
662. laughter on raining afternoons
663. First flurries of the season, the anxiousness awaiting the first snow
664.The tiredness that sets and won't be shaken, the rest that comes when needed
665. Dinner around the table, the six of us…
666. The learning that comes for me as I teach them.
667. Illumination of Scriptures, God breathed, inspired to inspire
668. Friends
669. Feeling insignificant, but knowing the truth of who I am in christ

670. A heart longing for more Jesus. Aching really, for just more of Him.

670. Sharing a journey with a dear friend
671. Impromptu dinner with a friend, much needed encouragement and wisdom that always comes from her  heart.

What do you want for Christmas?
Joining the community of friends and Ann in giving thanks for all things. Won't you join in the praise?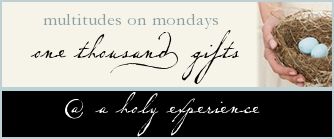 Want to keep up with me? Subscribe to Always Alleluia by Email to get my posts delivered right to your inbox. You can also find me on Facebook.