"I stand convinced that her invitation to write served not as punishment, rather I'd call it a moment of divine intervention for my eight year old self". 






These days I chase a dream that for a while, I lived disillusioned about how to capture and subdue. I imagined (foolishly) that dreams could be born apart from blood sweat and tears. The truth however, I am learning, is that dreams aren't born apart from these but rather, are nailed down through the very experiences of them.
The dream I chase won't drop as ripened fruit does from the tree, ready and waiting for me to enjoy. Seeing it come to light will not be achieved by scratching the silver foil from a lottery card, or by wearing the right shoes, or shaking the right hands, though I realize some people live as if this were true. Sometimes, dreams must be wooed, chased, pursued, fought for–wrangled into submission.
I credit my 3nd grade teacher, Mrs. Richardson, with planting this seed. While all the other seven and eight year old's raced happily during recess, faces red and legs pumping wildly on the swings, I felt only distance and loneliness. Finding her back in the classroom, she looked up from her desk and asked me why I was not outside with the others. I'm sure I answered her with my face to the floor, lips trembling and no doubt, mumbling, (remembering how shy I was then.) She told me to sit down, and to write something.  Anything. It wasn't an actual assignment, more of a suggestion to pass the time. She couldn't have known she had just handed me a gift. I didn't even fully know it then.
Any other child in that class likely would have bolted straight back out to the playground, never stopping to look back–for me, this was a chance to breath. Looking back at this, I considered for a moment, the possibility that her suggestion was meant as punishment, but ultimately, I must reject that thought as all of my faceless memories of her are nothing but encouraging.
Her classroom became a safe house for me during the recess hour. She gave me space to write, to think, to explore without having to defend myself against the dreaded dodge-ball wall, or from the torturous boys who terrorized me with bugs and worms. It was in her class where I wrote my first stories, it was in that school where I won a ribbon in the creative writing contest, it was she who watered and tended to a seed of a dream planted.
So no, I stand convinced that her invitation to write served not as punishment, rather I'd call it a moment of divine intervention for my eight year old self. 
All these years later and I have never stopped writing–never stopped imagining through words and journals and letters and stories. I had almost convinced myself I couldn't chase the dream, but God has been whispering, nudging, opening tiny windows and big wide double doors calling me out to it.
And then there's this blog–one of hundreds of thousands avaialable on the big wide web and still you read here, and you speak kindness and say to me, "good job."
I count it all gift. Every last comment and e-mail and grace you have shown to me over the last year.
*It's my bloggy-birthday, Always Alleluia is one year old. I cannot believe it. This blog, started as an act of obedience, a leap of faith, it has been a gift to me, a blessing most unexpected. YOU have been a gift unimaginable. Thank you for reading here. Thank you for sharing your hearts, your prayers, your sweet sweet words of encouragement with me. I am so deeply humbled and grateful for your kindness.
Counting on, beyond 1000 Gifts:
1035. The hapy end to a long week
1036. Conversations with peers, being treated as such
1037. Help that comes when needed
1038. Good, solid, grace-filled friendships
1039. A clean school room (!!)
1040. The boys building their pinewood derby cars with the Mr.
1041. A year of blogging. A year of stepping out on limbs- how graciously the Father has blessed it.
Joining the community of friends and Ann in giving thanks for all things. Won't you join in the praise?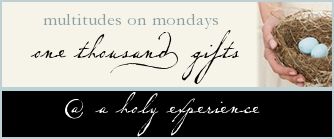 Want to keep up with me? Subscribe to Always Alleluia by Email to get my posts delivered right to your inbox. You can also find me on Facebook and twitter.