A commenter last week on my blog asked me if I had blogged my Lenten experience yet. The truth is, the lessons are still unraveling and the words have been knotted tight in a tangled ball, ideas looped too tightly together to break free–to make any sense. Today, little by little, it begins to unravel.
Lent crashed down hard on me this year and just days into it, already I had made a mess of things but good. If there's anything I can be counted on for, it's making a mess of the good God gives me. It's a gift I have. I like to call it, "human nature". Learning to live upside down goes against my very core, and though I say I want to live low like Jesus, my actions are often contrary. God has a remedy for this. He has been working me over this season, teaching me what it is to live lower–to live uner the weight of my cross.
The upheaval of a comfortable life slips in sometimes without notice at first. An unexplained attitude of irritation, and tightness of lips, of fists. The Holy Spirit begins to whisper and like children we stick our fingers in our ears and flap our tongues in an effort to block it out. We know what's coming.
The slow burn of sanctification melts away the edges and as it's fire slips in we begin to crack. A confession swells and resisting will only lead to more pain.
We must bend.
His words tell us this process is how He really loves us. By loving the filth right out of our hearts He draws us ever closer and when we release, when we lay low, we can finally hear His heartbeat.
Because, when we are laying down in the pit, it's His face we see pressed into the dirt beside us.
Lent this year came wrapped in filthy paper with tattered ribbons, sin bound so tight, barbed-wire piercing holes into a heart in need of a good bleed.
Wrestling out the ugly that has made a home there, in the dark, festering places for years. Reading the words over the Seder meal, " yeast leavens or puffs up, as pride and sin inflates our hearts…"
Pride prevents the confession. Pride pushes back grace from whitewashing the muddied up walls we crudely erect within our hearts.
 For everyone who exalts himself will be humbled, and he who humbles himself will be exalted." Luke 14:11
It doesn't matter that the 40 days of lent are over. The refining process runs life-long. 
The grace of it is, that through the scalding, we become renewed. The Father grafts new skin to cover old wounds and in time we gain wisdom and strength, we become healthier, holier, a little bit more like Christ, and less like us. That's all I want.
I'll live in the fires of refinement, if that's what it takes. Wash me clean.
I 'm curious, what was Lent like for you this year? 
***************************************************************************************************************************
Counting beyond my 1000 Gifts~
1060. The burn of refinement. knees pressed hard into carpet. Learning to live bent.
1061. Christ Resurrected. Living in the light of He who is light.
1062. A date with the Mr. A much needed evening out.
1063. Joyful faces of my children.
1064. Spring, the greens and pinks, the lavenders and yellows of new life!
1065. Our first ever Messianic Seder. Christ at the table, and full in our hearts.
1066. Acceptance where I had assumed denial. Unexpected grace!
1067. Taking a big step, trusting God to hold my hand.
Joining the community of friends and Ann in giving thanks for all things. Won't you join in the praise?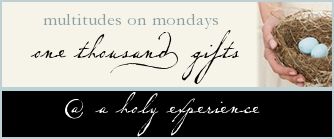 Want to keep up with me? Subscribe to Always Alleluia by Email to get my posts delivered right to your inbox. You can also find me on Facebook and twitter.