Yesterday I wanted to put them on the bus. Not really, but in the hot moments of frustration, in the wily and raucous moments of disobedience over discipline the thought blasts through my head, the temptation to quit, "you know, you don't have to do this," I hear the murmurings. And I know that the words are true, I don't have to do this. No one is forcing me to.
The truth is, I do want to. But I have days, sometimes weeks, but mostly days, where it all feels like too much, and I think it would be easier to just send them off. But then, a desperately breathed prayer is answered. In a moment, a shift occurs, and there is no logical explanation other than an obvious intervention by God or angles, or heavenly harps unheard by our human ears, that have the power, unbeknown to us, to calm the devils within.
The children settle down, and learning begins and calm reigns where only moments before, chaos ruled.
And I breath out prayers of thanksgiving as I push on through the stories and grammar and the math that makes me twitch internally. By the days end I am weary from the up and down of it all, but tomorrow I will get back on this ride and we will sit, belted in with our faces covered half the time and our hands flapping wildly the other half, and we will tuck our exhausted selves into bed and give thanks that we made it another day. Thankful that the ride was less scary today, and perhaps we saw something on the slow click-click-click to the top that we didn't see yesturday.
We live this habit of learning, of growing and opening to accept new challenges, and stare down the old ones.  I know without a doubt at the end of the long day, when the puzzles are packed up and the crayons are mingling brightly in the box once again, that it has been by His abundant grace that we made it through another day. And the joy of learning overtakes the occasional struggle of the process.
I know that the stilling and eagerness of their minds today was not by my own doing but by His generous and loving hand, inspiring me to keep going. He reminds me not to listen to the voice that says I have permission to quit. I'm not looking for permission to walk away from this. I don't want that, not really. Not even on the hardest of days. And neither do they. After the long hard haul of juggling two-year olds who insist on being read to in the middle of the science lesson, and the four year old who whines just moments after leaving the breakfast table, for more to eat, I know, that His presence here, in this space where we repeatedly invite Him in, where we beg His company, has been the blessing that has provided the opportunity to learn.
His presence has been the sustaining force that has propelled us through this wild and wooly day of teaching and learning and forgiving, and loving. This is exactly what I want. The full color spectrum from the darkest black days to the blinding yellow we can see as we crest the top of the ride- you know that feeling, when your stomach drops out and the rush of the downward whoosing hits you square in your sleep-deprived face- that is exactly what I want.
And by His grace, we get to learn and live this habit every day.
let the wise listen and add to their learning,
and let the discerning get guidance Proverbs 1:5
Walking with Ann and others today.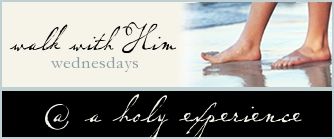 Want to keep up with me? Subscribe to Always Alleluia by Email to get my posts delivered right to your inbox. You can also find me on Facebook and twitter.