I started collecting them a year or so ago, when I got my first email from Ann after reading her book. I tucked her kind words into my journal because as a writer, words are currency to me, and in receiving the gift of hers, I felt rich.
As I began to step out a little further in obedience, writing publicly, more messages continued to come–slowly, not every day, but always just when I need them the most. You began to offer encouragement and friendship–with each kind word, my journal bulges with all that grace.
When I said I wasn't going to blog in June, I fretted a little because I love this space, and I love hearing from you and I was afraid of the cobwebs gathering and the floors getting too dusty.
God knew all that and He specifically spoke to several of you, and the notes, they streamed in steady for a month–my heart- purse nearly burst with the wealth that flowed in.
An anxious heart weighs a man down, but a kind word cheers him up. Proverbs 12:25
You didn't know my need. I didn't voice it. I was ashamed to even admit it to Him.

But He knew and He whispered it to you and you served Him, by blessing me.
I don't have words to really thank you for your kindness. "Thank You" feels too small.
Just know that you brought healing to my bones. (Proverbs 16:24) 
You were Christ to me.
Let the word of Christ dwell in you richly as you teach and admonish one another with all wisdom, and as you sing psalms, hymns and spiritual songs with gratitude in your hearts to God. Colossians 3:16
You amazed me again when I nervously offered up my first link-up last week, and you showed up there, your little thumb-nail faces at the end of that post. You are a gift, my friends. YOU. Your words spill out like gold across my screen–into my heart, and I weep with gratitude for how you live the gospel.
My joy runs deep, friends.
All my love.
Joining the community of friends and Ann in giving thanks for all things. Won't you join in the praise?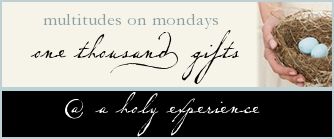 Want to keep up with me? Subscribe to Always Alleluia by Email to get my posts delivered right to your inbox. You can also find me on Facebook and twitter.