We all want progress, but if you're on the wrong road, progress means doing an about-turn and walking back to the right road; in that case, the man who turns back soonest is the most progressive. C.S. Lewis

For to me, living means living for Christ, and to die is even better.  Philippians 1:21 NLT
My sense of direction stinks on ice. Add my rebellious, independent spirit to the mix and it's no mystery as to how I easily lose my way in certain seasons. At some point in the recent past, I lost my way. I turned left instead of right, and I stood up too tall when I should have been bent. I probably made a hundred, tiny, seemingly insignificant decisions that nudged me further from the throne. Isn't that how it goes? We live overcome with decisions to make, laziness grabs the wheel, fear slams foot to the floor and without full awareness, we're quickly lost.
Rather than quietly seek refuge, I stood arrogant and prideful against the refiners fires. Even in writing it, my foolishness insults my own knowledge of what is best. I'm not proud of it, but it's the truth.
While I've hungered for transformation, still I sometimes stand, my heels dug in against the sand, willfully disobedient against getting up, picking up my mat–taking the leap.
How is it possible to forget the character of God? Sin. Deceit. Sour life experiences. These bitter roots cloud the clearest vision when allowed to root and grow in the dark cracks. Despite trying to live life worshipping, the very face of the one I worshipped faded and slowly, my own baggage nearly eclipsed it  completely.
lift up your voice with a shout,
lift it up, do not be afraid;
say to the towns of Judah,
"Here is your God!" Isaiah 40:9
Chasing the dream, following the rules, doing the work–all distracted me from pursuing Him, and then I flat forgot exactly who He is.
I've read Isaiah 40 every day this week. Every time I read it, I weep–
He tends his flock like a shepherd:
He gathers the lambs in his arms
and carries them close to his heart;
he gently leads those that have young. Isaiah 40:10
The poetry and power used to describe God in this chapter is nothing short of awe-inspiring, and deeply humbling. The humbling is what I've needed, the awe is what I'd lost.  
Who has measured the waters in the hollow of his hand,
or with the breadth of his hand marked off the heavens? Isaiah 40:12
The other day, my littles and I, perusing the garden, picked a handful of caterpillars off of our broccoli. The kids begged to keep them and so we did. They sat in a jar for a couple of days and then we watched as their movement slowed and their shape transformed. Three days after collecting them they all slept soundly in their cocoons.
Transformation in the works.
He sits enthroned above the circle of the earth,
and its people are like grasshoppers.
He stretches out the heavens like a canopy,
and spreads them out like a tent to live in. Isaiah 40:22
Once they had no where to go, it seemed there was nothing left to do but let the process begin.
At some point, we have to yield to the Father and let Him work in us. 
Do you not know?
Have you not heard?
The Lord is the everlasting God,
the Creator of the ends of the earth.
He will not grow tired or weary,
and his understanding no one can fathom. Isaiah 40:28
Fighting against Him prevents us from experiencing all that He has for us. There's a season for both scrimping along on your belly, and fluttering your wings to go higher.
We set them all free this week, all 10 butterflies. I watched as they lifted off to places they'd never have seen from the ground.
Watching their new wings unfurl gives me hope. There's new life for them, new sights and purpose for their transformed selves.
They'd never have gotten there had they failed to endure the process.
What kind of transformation are you going through these days?
Continuing on, beyond my 1000 Gifts:
2013. Family
2014. Tucking in my babies after they've played themselves half to sleep
2015. Recovery, bouncing back from various illnesses
2016. Freedom in Christ, this world holds nothing for me
2017. Home
2018. New wings
2019. The one spiral curl that hangs next to my baby's chin.
2020. Friends that pray for me when I need it the most, even when I don't ask.
Joining the community of friends and Ann in giving thanks for all things. Won't you join in the praise?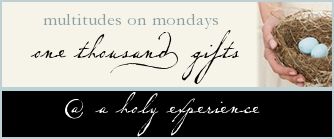 Want to keep up with me? Subscribe to Always Alleluia by Email to get my posts delivered right to your inbox. You can also find me on Facebook and twitter.