The day I wrote that it was hard to worship amid the chaos, she brought me this.
She came over with her four to make gingerbread houses and play and in her hands, this small box, with treasure inside- encouragement stamped into the metal.  This blessed reminder swings and taps against my neck as I move through the day, When I bend to gather toys and the heat rises in frustration for having to pick up that same doll and that same sharp-edged metal car for the millionth time, I am reminded as I hear that pearl tap metal, worship always.
And when I'm struggling and searching, when my fingers curl tightly around thin air and I exhaust myself in this nonsense way of chasing my own tail- I have these friends. These gifts who speak truth to my soul and remind me to always worship, because with all of my whirling and reckless twisting, I am apt to forget.
Whatever comes or doesn't come of my writing dreams, whatever happens to these words and the time spent pouring it all out here- the unexpected gift I have been given, the surprise blessing in all of this has been the connections made.
I have found friends in between the rollercoaster numbers of blog stats and twitter messages. I have found real-live kindred souls who encourage and share, and give huge pieces of themselves, not out of obligation, but out of love, as an act of worship-
And in the midst of our writing and peeking in at each other's hearts we have intertwinded stories and prayers and all of it twists so tightly around the Christ-thread that it cannot possibly be untangled.
I wouldn't want it to anyway.
We are connected.

So often, I'm too busy looking for the obvious gift, the one that shouts out "Here I am!" But this community, these relationships built in the dark hours of early mornings, and late nights spent fighting out the hard words, this is the gift.
This is the one that we almost miss.  This is the gift that is stumbled upon as one builds a platform and networks- Somewhere we jumped the line between just being "friendly" and becoming freinds and thank God we did. I am learning all sorts of truths about myself these days, as God stretches me on his loom and pulls at my threads, mending them anew, and these women, this community, they hold my hands on the operating table and whisper worship with me.
We gather our various gifts- the obvious and the not-so-obvious and we pile them up at his feet together and we laugh and cry over the mountain of blessings that threatens to topple over on to us.
Because really, we are all drowning in it, this golden thread He weaves, the blessings that loop through our tapestry over and under and again and again.
We have to keep counting the gifts as they come, this is our collective and singular worship- and we are called to do so.
Rejoice always, pray continually, give thanks in all circumstances; for this is God's will for you in Christ Jesus. 1 Thessalonians 5:16-18
Counting on to my 1000 Gifts…
672. Friends. Particularly those mentioned here, who have crossed over that imaginary line, those who are kitchen friends
673. Christmas. For what it means regardless of how I feel about the particular day.
674. Wounds that weep, your healing that comes and covers
675. The stretching and mending of a soul, the work only God can do
676. Always and evermore, grace….
677. A baby born in a stall, humble beginings, humiliating ends, and yet He Lives-
678. A new Year. Fresh starts.
679. New adventures, new communities
680. My family, how they love me regardless of my crazy.
*My beautiful necklace is from the Vintage Pearl*
Joining the community of friends and Ann in giving thanks for all things. Won't you join in the praise?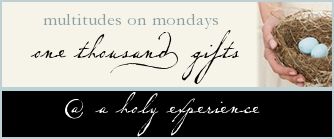 Want to keep up with me? Subscribe to Always Alleluia by Email to get my posts delivered right to your inbox. You can also find me on Facebook.