May my heart be right with thee, and my life as becometh the Gospel. Valley of Vision, True Religion
Praying God's grace for your weekend wanderings, may you be filled by the fulfilling of His divine promises. He loves with a love so pure, so brilliant we cannot begin to fathom it's heights, nor depths. Praying you know this in all you do, let His love wrap round and filter through you.
This post is shared with Deidra and friends at: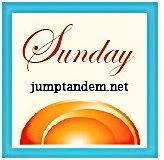 Want to keep up with me? Subscribe to Always Alleluia by Email to get my posts delivered right to your inbox. You can also find me on Facebook and twitter.