Thou art in every situation able to meet my needs and miseries.
May I live by thee,
live for thee,
never be satisfied with my christian progress
Valley Of Vision, Divine Support
Praying that you call to Him in all your wanderings this weekend, confident that He Hears your voice, and answers in His perfect timing.
This post is shared with Deidra and friends at: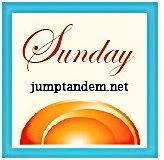 Did you see my guest post over at (in)Courage? Click HERE for some encouragement.
 Want to keep up with me? Subscribe to Always Alleluia by Email to get my posts delivered right to your inbox. You can also find me on Facebook and twitter.