In the swaying and manuvering through my days, I still mange to get lost.  I stumble over toys and books and as my feet slip, so does my mind, off into space, thinking about other things, worldly things.  There's this big temptation to take it all for granted- to look around and shrug ungrateful in the face of SO much. I was just complaining to a friend that I felt choked by abundance. How does that happen? How do we have so much that it threatens to suffocate?
We all live off his generous bounty, gift after gift after gift. (John 1:16 Msg)
As soon as the words left my mouth, I felt it all wrong. Surely we have misused gifts we have been given. There have been times when we have taken abundance and God's good grace and gathered it up like hoarders,  stashing it away, tucking it into spaces, finding comfort in it, instead of in Him. Keeping it for ourselves instead of sharing it. Taking it all for granted enough to actually complain about abundance.
Is anything we have not a good and perfect gift set before us from his hand?
Perhaps it's all sacred.
If' it is all a gift, which I believe it is, then, this abundance that surrounds us, is to be shared.
If we have bread on the table and shoes on our feet, that's enough. (1st Timmothy 6:8 Msg)
We ought to give as generously as we receive. And we are learning this. The more we do the more I want to do…We don't need what all we think we do. We don't need the excesses that fill every corner and closet. We only need more of HIM. I am trying so hard to learn how to live this right now.
I have been cleaning out for what feels like a year.  As I clean out the physical, so God is cleaning out my spiritual. Pushing to the surface the trash so that it can be set out to the curb, dusting out the corners and clutter, making more space for him to come and settle within. For his abundance to become our abundance to share. It feels good. It feels like home when HE settles in.  When you find yourself longing only for more of what He has, and less of what you have, that is where you will find abundance unmatched.
What are you longing for today?
Have you considered what you really need?
Counting beyond 1000 Gifts:
Connecting with family
Vacation
Having no schedule, no agenda
Lazy afternoons watching the kids splash in the pool
New opportunities
So many good books to read!
Friends who encourage
sharing this post in community with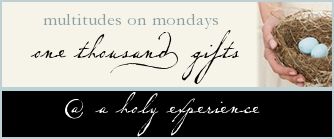 *a re-post from the archives