And without faith it is impossible to please God, because anyone who comes to him must believe that he exists and that he rewards those who earnestly seek him.Hebrews 11:6
I woke the other morning just as the wings clipped a pole and sheered clean off of the plane I rode on.
An unknown, yet familiar voice from overhead speakers assures me not to worry, it will be fine. My hands clenched the arm rests and I felt the blood drain from my face.
How will it be fine, I think, we are free-falling.
And that was it. I woke up. 
I don't know anyone who has ever actually died in their dreams. I have come close a few times, this recent plane-crash dream being one of them-
I dream a lot. God speaks to me in dreams visions, most of the time in sleep, though occasionally, when I am awake. And I do love a good discussion about dreams and their symbolism. There were plenty of dreamers in the bible, so I feel I am in good company. And me being me, I had to analyze this dream a bit too, asking God always, if there is anything I should glean from it, or was it just the result of an overactive psyche- an entirely possible explanation. 
I sit and I wait. I hear there words faith, and trust. Words I have been using frequently these days, as if they might vanish forever.
What is faith other than blind trust in something we cannot see?
Trust, being my one word for this year, has already  whomped me good over the head a few times, as the lessons come steady- day after day, minute after minute, hour after hour-
Our faith makes us not unlike passengers on a plane, gypsies on a journey into foreign lands. We live daily, somewhat at the mercy of things outside of our control. We are not the pilot. We exist merely as passengers. We simply follow the One who is greater, the One who leads us blindly, yet willingly, if we are faithful, into the vast unknown.
We live the free-fall of life, not knowing where or when we will land, but trusting that it is good, becauseHe is good.
I don't know what happens when my plane hits the ground.  But His voice says "don't worry, it will be fine".
What can I do but trust? Why would I worry at that point-what good would come of it?
do not be anxious about anything, but in everything by prayer and supplication with thanksgiving let your requests be made known to God. And the peace of God, which surpasses all understanding, will guard your hearts and your minds in Christ Jesus.Philippians 4:6-7
I know that a plane needs wings to fly, just as I know that I cannot live without faith.
"Faith is what makes life barable, with all it's tradgedies and ambiguities and sudden startling joys." Madeline L'Engle
For now I take from this dream the idea that no matter what, in the scariest of potential circumstances, I need only to trust. Minutes and days are not to be frittered away, choking on the fears and worries that steal joy.
Life is meant to be lived with arms raised, hands open, wings of faith spread wide with anticipation for whatever may come. 
I keep counting my gifts, because in doing so, my focus shifts from the wings that have been sheered off, to the joy of knowing, the relief of trusting, that whatever happens, His outstretched arms will always catch me.
1011. The outrageous community of women I have found who pray for me daily. I cannot believe how blessed I am.
1012.  Fighting through the desire to quit.
1013.  Children fighting with each other and then offering apologies and forgiveness without my prompting.
1014.  The hard job of mothering. It never ends, there are no scheduled breaks, and the clean-up of various bodily fluids is a constant.
1015.  Family
1016. This friend.
1017. And this One
1018.  And these women.
1019. Boys who love to do math (Proof God does have a sense of humor, for a woman who lives in fear of numbers)
1020. Little girls singing princess songs and dancing wild to Mat Kearny's "Hey Mama" (I dare you to listen to that song and not dance!)
Joining the community of friends and Ann in giving thanks for all things. Won't you join in the praise?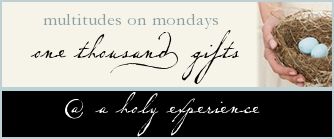 Want to keep up with me? Subscribe to Always Alleluia by Email to get my posts delivered right to your inbox. You can also find me on Facebook and twitter.