Hi. I've missed this space. I've missed you.
I hesitated pulling back last month. Thrity days in the blogging world is like a hundred years because the internet never sleeps.
I worried I'd have nothing to say–(for those of you who know me, you're likely chuckling at the rediculousness of this statement)
I worried you'd quit reading here.
I worried I'd become irrelevant.
I worried I'd lose ground.
I worried. 
I needed the break. I needed the margin, as some have been calling it lately.
Yeild.
The bottom line is, if I am disobedient to Christ when He's calling me to himself, I am a fool, and will watch my life crumble for failing to yeild to the Father.
This is what the Sovereign Lord, the Holy One of Israel, says: 
"In repentance and rest is your salvation, 
in quietness and trust is your strength– Isaiah 30:15 
I thought my journey started during Lent, but God revealed to me, through an old notebook, that the prayers I've been watching Him answer, were in fact not recent at all.
Forgotten by me–but not by Him.
The truth is, the wild ride of redemption I've been on the last few months, began a long time ago, I just took a few detours and stopped paying attention.
But I'm back. I have lots to tell you. I hope you're back too.
When's the last time God called you to take a break? How was that for you?
Counting on Beyond my 1000 Gifts~
2011. Notes of encouragement sent at *just* the right time, when God knew I'd need them
2012. Quiet times of worship, of study, of learning who God is.
2013. Time with my babies.
2014. Water gund and balloons
2015. Simple dinners, lazy days
2016. The forced slow down that comes from injury, learning to be still
2017. Vacation just around the bend
2018. Great talks with kindred spirits
2019. Instagram. Is it wrong to love an app this much?
2020. My well worn bible, how the ancient texts still apply, how the word breathes new life.
2021. Forgiveness, long overdue.
Joining the community of friends and Ann in giving thanks for all things. Won't you join in the praise?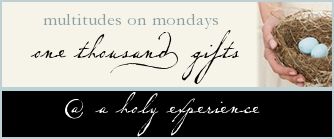 Want to keep up with me? Subscribe to Always Alleluia by Email to get my posts delivered right to your inbox. You can also find me on Facebook and twitter.