Bent over sifting through the laundry I hear Him inside my chest. He answers clearly with a truth I had forgotten.  Lost in pursuit, I completely missed what was right in front of my face–right here in my hands.
"You already have a ministry" He whispered.
Chills ran up my arms, plunged deep in the piles of filthy towels and grass stained socks. How on earth had I missed this?
I've spent too many hours looking for another place to serve–another way to be more for Him, to do the next thing and currently I already juggle at least four ministries.
First, I am a mom. Four little souls wake up each day hungry for the feeding. I have the opportunity each day to point them to the cross, to get low with them and teach them how to live life on their knees–even as I am still learning myself.
Motherhood is a ministry. Motherhood serves the highest function in society, though the world will tell us otherwise.
If this were my only ministry, it would be more than enough. But it isn't. Gently, God brings forward the names and places I serve, beyond these four walls, here, with my words, at church in the nursery and coordinating MOPS, as an Advocate for Compassion and I am stunned at the ridiculous obviousness of each of these and yet I had forsaken them all in blind pursuit of more—
The enemy has perfected the art of telling us that all we have isn't enough. The temptation for more has been around since Eve stumbled and sought more than pure communion with God.
God knew where I was. He knew the deceptions I believed as my heart turned a blind corner on the various places He has graciously allowed me to serve.
He calls me gently back as I serve my family, washing the clothes, cooking the meals, changing the diapers and ironing the endless mounds of clothes we are blessed to posess. I shake my head at how I came this close to forsaking what fills my arms for the romanticized idea of serving somewhere else, for perhaps more notiriety. I shudder at the thought.
I have a ministry. He reminded me, " You have a ministry. Serve where you are" .
So today, the day after Mothers Day, I re-comit to serve Him more fully, not asking for more, but rather thanking Him for the abundance gifted to me, even though I don't deserve it.
Counting on, beyond my 1000 Gifts:
2001. A morning at the farm with the kids, and friends.
2002. Sunshine nearly all week
2003. Sprouts in the garden, rain at just the right times
2004. Lots of time with friends last week, joy for me and my children
2005. Husband who spoils and blesses me, always making me feel treasured
2006. Handmade Mothers Day Cards from the kids, little paper treasure
2007. A day spent in Pajamas. Too rare anymore.
2008. Sharing dreams with friends
2009. The long wait for you Lord to answer. Learning continually to be patient.
2010. The hard, humbling season. That you walk with me through it.
Thank you, to those of you who have sent in guest posts, I am looking forward to sharing your words here, and if you havent yet, there's still time!
And in case you're wondering, the hanging plants are still alive–for now. 😉
Joining the community of friends and Ann in giving thanks for all things. Won't you join in the praise?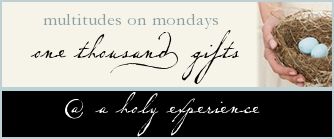 Want to keep up with me? Subscribe to Always Alleluia by Email to get my posts delivered right to your inbox. You can also find me on Facebook and twitter.