"The women gather, I laugh, hug and reconnect. I stand at the back of the room. I ask the silent questions we rarely dare to speak aloud.
Will I fit in?
Will anyone like me?
I'm at a conference. I know many of these women. I've met some in person and connected with others online. We call each other friends, support each other through hard times, cheer each other on…
And yet.
Insecurities push me into the corner. I become a wall flower, not growing but wilting in the feeling of being alone right in the middle of a crowd.
Eventually, the feeling passes.
I know it will come again." (pg. 99, Your'e Already Amazing)
Ever feel like this? If you read this passage from Holly's new book
 nodding your head and feeling the warmth of agreement flush out in your cheeks, then girlfriend, you need to read this book.
Holly Gerth is well known for her cheerful, faithful encouragement for women. She writes amazing cards for DaySpring and has written a couple of other inspiring books. This book, You're Already Amazing: Embracing Who You Are, Becoming All God Created You to Be
, this is a sit-down in a coffee shop with a good friend who hugs you with her words. This book is a walk on the beach with a soul-siter who reminds you of your worth,  just as God created you, these are the tender words whispered between girlfriends at a sleep over, and the warm touch of a friend who sits beside you on the couch and cups your face when you tremble with insecurities. Holly's book is a beautiful lap around the track beside you when you're questioning your ability to be someone worthy of grace. She shouts with cheerful enthusiasm and whispers sweetly that you are already amazing, just as you are.
Holly reminds us repeatedly through scripture, of who we are in Christ. She commiserates with the struggles of insecurities, and gives witness to the times of overcoming some of her own, by faith and God's grace. She reminds us that God delights in us, because He has created us unique and for a purpose.
This book was a delightful encouragement to read. I have no doubt you'll agree.
*I was given a copy of this book for the purpose of my review, the opinions expressed here are my own. This post contains affiliate links.
**************************************************************************
Continuing on, beyond my 1000 Gifts~
1042.Time to sort through the kids clothing, the gift of abundance
1043. Spring
1044. The various friends who make a point to stop here and leave a kind word, a gift immeasurable
1045. The refining fires of faith, the burn and restoration of it
1046. A beautiful children's sermon in church, spoken for them, ministering to me.
1047. Ideas, so many blessed ideas
1048. Books, so many blessed books!
1049. Kicking the soccer ball in the yard with kids, their glee, the connections of play
1050. The rush of life, the pace that tires me and spurs me on all at once.
Joining the community of friends and Ann in giving thanks for all things. Won't you join in the praise?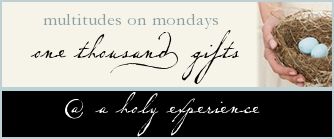 Want to keep up with me? Subscribe to Always Alleluia by Email to get my posts delivered right to your inbox. You can also find me on Facebook and twitter.